The Role of The Internal Audit Management of Enterprise Risk Management
Siwidyah Desi Lastianti

Faculty of Economics, Merdeka University Surabaya

Endang Muryani

Faculty of Economics, Merdeka University Surabaya

Mahrus Ali

Universitas Merdeka Surabaya
Keywords:
Audit, Internal Audit, Risk, Risk Management
Abstract
The aim of the study to present the role of internal audit in the company. The role of internal audit in the company is very important to control not only the financial sector but also other sectors that have been determined by the management. There is a relationship that is so tightly between the internal audit and corporate management, internal audit which can increase the value and achieve its goals. Internal audit should also adjust its function, not only on financial issues, but other problems, associated with risk and improved control strategies.
Downloads
Download data is not yet available.
References
Airmic, Alarm, IRM. (2010). A Structured Approach to Enterprise Risk Management (ERM) and the Requirements of ISO31000.The Public Risk Management Association
Australian Government. ISO / IEC Guide 73 RiskManagement.Australian Transaction Report and Analysis Center. Downloaded on November 22,2014.
Benli, Vahit Ferhan., Duygu Celayir. (2014). Risk Based Internal Auditing And Risk AssessmentProcess.European Center for Research Training and Development UK. www.eajournals.org
Boulescu, M. (2003). FinancialAudit.National Normative Benchmark, Ed. Economica, Bucuresti.
Caratas, Maria Alina., Elene Cerasela Spatariu. (2014). Contemporary Approaches in InternalAudit.Procedia Economics and Finance.
Daniela, Petrascu., Alexandra Tieanu. (2014). The Role of Internal Audit in Fraud Prevention and Detection.Procedia Economics and Finance.
Daniela, Petrascu., Tamas Attila. (2013). Internal Control and Internal Audit versusCoaching.Procedia Economics and Finance.
Hebeish, Ahmed M. Abo. (2016). A Practical Guide To The Art Of InternalAudit.1st Edition. Cognella Academic Publishing, USA.
Karagiorgos, Theofanis., George Drogalas, Michail Pazarskis. (2007). Internal Auditing As A Main Tool For Efficient RiskAssessment.Mibes.
Karmudiandri, A. (2014) 'Peranan Audit Internal dalam Manajemen Risiko Bank', Media Bisnis. STIE Trisakti, 6(1), pp. 19–26.
LASTIANTI, S. D. D. (2015) 'KAJIAN MANAJEMEN RISIKO SEBAGAI UPAYA UNTUK MENCAPAI KEBERHASILAN PADA PROYEK KONSTRUKSI BAJA DAN SIPIL DI PT SUPRA SURYA INDONESIA'. UNIVERSITAS AIRLANGGA.
Lestari, V. N. S. (2018) 'Analisis Rasio Keuangan Untuk Menilai Kinerja Keuangan Pada Pt. Indofood Sukses Makmur, Tbk, Di Bursa Efek Surabaya (Bes) Periode 1998–2002'. INA-Rxiv.
Syaifudin, A. (2017) 'The Impact of Creativity and Innovation on Increasing Micro Enterprise Income PKL Gading Fajar Sidoarjo. IJEBD (International Journal Of Entrepreneurship And Business Development), 1 (1), 88–98'.
Alisjahbana, S. W. et al. (2018) 'Substitution Local Resources Basalt Stone Scoria Lampung, Indonesia, as a Third Raw Material Aggregate to Increase The Quality of Portland Composite Cement (PCC)', International Journal of Engineering & Technology, 7(2), pp. 484–490.
Setiawan, M. I. et al. (2018) 'The Correlations between Airport Sustainability and Indonesian Economic Growth', in IOP Conference Series: Earth and Environmental Science. IOP Publishing, p. 12089.
Gorrod, Martin. (2004). Risk Management Systems - Process, Technology andTrends.Palgrave Macmillan.
Munteanu, Victor., Laurentiu Zaharia Dragos. (2013). Current Trends in InternalAudit.Procedia Social and Behavioral Sciences.
Pickett, KH Spencer. (2010). The Internal AuditingHandbook.3rd Edition. John Wiley and Sons, Ltd., Publication.
Smith, Nigel J., Merna, Tony., Jobling, Paul. (2006). Managing Risk in ConstructionProjects.London: Blackwell Publishing.
Stanciu, Victoria. (2016). Trends and Priorities in InternalAudit.Audit Financiar, XIV, Nr. 9 (141) / 2016, 1003-1008.
The Institute of Internal Auditors. (2004). Internal Auditin's Role In Sections 302 and 404 Of The US Sarbanes-Oxley Act Of2002. www.theiia.org.
The Institute of Internal Auditors. (2017). International Standards for the Professional Practice of Internal Auditing (Standards). www.theiia.org.American Accounting Association.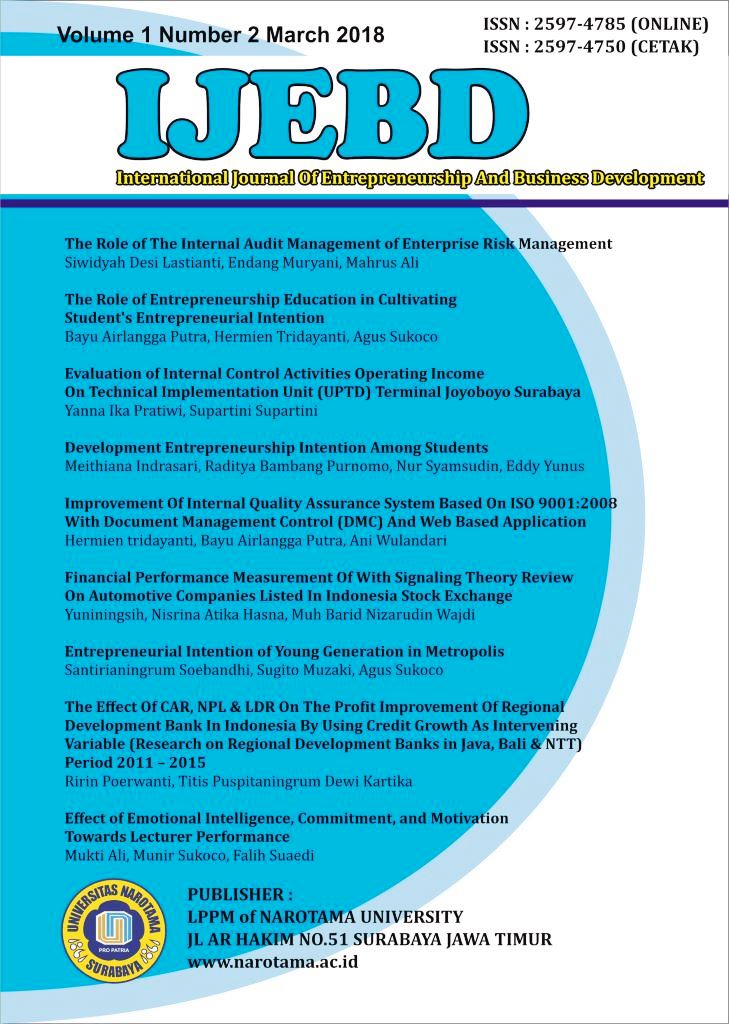 This work is licensed under a Creative Commons Attribution-ShareAlike 4.0 International License.