The Role of Entrepreneurship Education in Cultivating Student's Entrepreneurial Intention
A Theory of Planned Behavior Approach
Bayu Airlangga Putra

Narotama University

Hermien Tridayanti

Narotama University

Agus Sukoco

Narotama University
Abstract
Purpose: This research seeks to prove whether entrepreneurship education can significantly grow student's entrepreneurial intention. The approach of theory of planned behavior (TPB) is used to examine whether the effect of entrepreneurship education on student's entrepreneurial intention initially goes through attitude variables, subjective norms, and perceptions about behavioral control first. The population of this study is the students of Narotama University who were taking the course of Strategic HR Management in the odd semester of 2017/2018. Data was analyzed using path analysis method. The result shows that entrepreneurship education has no direct effect on student's entrepreneurial intention. As for the three elements of TPB, only attitude variable which is able to significantly mediate the influence of entrepreneurship education on student's entrepreneurial intention.
Design/methodology/approach: In this research, data in the form of respondents' perceptions were analyzed quantitatively using path analysis method.
Findings: Entrepreneurship education has no direct effect on student's entrepreneurial intention and solely mediated by attitude of the students in order to effectively influence their entrepreneurial intention.  
Research limitations/implications: In this research, entrepreneurship education is seen from the learning process in one course only, not viewed holistically starting from a policy making process at the top management level of the university, the preparation of an integrated entrepreneurship curriculum, to its implementation in the learning process in each course. Also, the family background of each student was not considered as one of the determinants of their entrepreneurial intention.
Practical implications: There is a need to increase affective content so that a stronger persuasive ability will be established among students to influence the norms in their social environment. Addition in psychomotor content is also needed to form more positive perception about students' competence in doing entrepreneurial activity.
Originality/value: This research combines the study of entrepreneurship education with the latest development in TPB study. This research also focuses on a population of students who are taking a certain course. Thus, the components in a learning process can be better observed. 
Paper type: Research paper
Keyword: Entrepreneurship, Entrepreneurial Intention, Entrepreneurship Education, Theory of Planned Behavior
Downloads
Download data is not yet available.
References
Ahmad, N.H., T. Ramayah, and S.A.D.T. Muda. 2013. Unlocking the Entrepreneurial Propensity Among Prime-Age Malaysians: A Multi-Ethnic Analysis. Researchers World – Journal of Arts, Science & Commerce 4(1): 1-6.
Ajzen, I. 1991. The theory of planned behavior. Organizational Behavior and Human Decision Processes 50: 179-211.
Ajzen, I. and M. Fishbein. 1980. Understanding attitudes and predicting social behavior. Prentice Hall. Englewood Cliffs.
Autio, E., R.H. Keeley, M. Klofste, and T. Ulfstedt. 1997. Entrepreneurial intent among students: testing an intent model in Asia, Scandinavia and USA. Frontiers of Entrepreneurship Research, Babson Conference Proceedings available at: www.babson.edu/entrep/fer
Cheng, M.Y., W.S. Chan, and A. Mahmood. 2009. The effectiveness of entrepreneurship education in Malaysia. Education + Training 51(7): 555-566.
Eze, J.F. and A.C. Nwali. 2012. Capacity Building for Entrepreneurship Education: The Challenge for The Developing Nations. American Journal of Business Education 5(4): 401-408.
Fayolle, A., B. Gailly, and N. Lassas-Clerc. 2006. Assessing the Impact of Entrepreneurship Education Programmes: A New Methodology. Journal of European Industrial Training 30(9): 701-720.
Guerrero, M., D. Urbano, J. Cunningham, and D. Organ. 2012. Entrepreneurial Universities in Two European Regions: A Case Study Comparison. Journal of Technology Transfer 39: 415-434.
Gümüsay, A.A. 2014. Entrepreneurship from an Islamic Perspective. Journal of Business Ethics 130(1): 199-208.
Gundry, L.K. and H.P. Welsch. 2001. The ambitious entrepreneur: High growth strategies of women-owned enterprises. Journal of Business Venturing 16: 453-470.
Hamilton, R.T. and D.A. Harper. 1994. The entrepreneur in theory and practice. Journal of Economic Studies 21(6): 3-18.
Humas Kementerian Koperasi dan UKM. 2017. Ratio Kewirausahaan Indonesia Naik Jadi 3,1 Persen. Kementerian Koperasi dan Usaha Kecil dan Menengah Republik Indonesia (online) at http://www.depkop.go.id/content/read/ratio-wirausaha-indonesia-naik-jadi-31-persen/ accessed January 29, 2018.
Johannisson, B. 1991. University training for entrepreneurship: a Swedish approach. Entrepreneurship and Regional Development 3(1): 67-82.
Kolvereid, L. 1996. Prediction of employment status choice intentions. Entrepreneurship: Theory and Practice 21: 47-57.
Kolvereid, L. and O. Moen. 1997. Entrepreneurship among business graduates: does a major in entrepreneurship make a difference? Journal of European Industrial Training 21(4): 154-160.
Krueger, N.F. and A.L. Carsrud. 1993. Entrepreneurial intentions: applying the theory of planned behaviour. Entrepreneurship and Regional Development 5: 315-330.
Masum, F. 2012. Role of International Higher Education in Developing Employability: Limitations and Opportunity. Mediterranean Journal of Social Sciences 3(10): 37-47.
Moi, T., Y.L. Adeline, and M.L. Dyana. 2011. Young Adult Responses to Entrepreneurial Intent. Researchers World – Journal of Arts, Science & Commerce 2(3): 37-52.
Nadim, A. and P. Singh. 2011. A System's View of Sustainable Entrepreneurship Education. Journal of Strategic Innovation and Sustainability 7(2): 105-114.
Putra, B.A. and H. Tridayanti. 2016. Student's Entrepreneurial Intention: From Concept to Measurement. In Borderless Open Access Education. Editors A. Ideris, R. Varatharajoo, F.I. Romli, and A.R. Bakar. Universiti Putra Malaysia Press. Serdang.
Ramadani, V., L.P. Dana, V. Ratten, V., and S. Tahiri. 2015. The context of Islamic entrepreneurship and business: concept, principles and perspectives. International Journal of Business and Globalisation 15(3): 244-261.
Sahut, J.M. and M. Peris-Ortiz. 2014. Small Business, Innovation, and Entrepreneurship. Small Business Economics 42: 663-668.
Schumpeter, A.J. 1934. The Theory of Economic Development: An Inquiry into Profits, Capital, Credit, Interest, and the Business Cycle. Transaction Publishers. New Brunswick.
Thompson, E.R. 2009. Individual Entrepreneurial Intent: Construct Clarification and Development of an Internationally Reliable Metric. Entrepreneurship Theory and Practice May: 669-694.
Alisjahbana, S. W. et al. (2018) 'Substitution Local Resources Basalt Stone Scoria Lampung, Indonesia, as a Third Raw Material Aggregate to Increase The Quality of Portland Composite Cement (PCC)', International Journal of Engineering & Technology, 7(2), pp. 484–490.
Setiawan, M. I. et al. (2018) 'The Correlations between Airport Sustainability and Indonesian Economic Growth', in IOP Conference Series: Earth and Environmental Science. IOP Publishing, p. 12089.
Thompson, J.L. 1999. The world of the entrepreneur – a new perspective. Journal of Workplace Learning: Employee Counselling Today 11(6): 209-224.
Upton, N., D. Sexton, and C. Moore. 1995. Have we made a difference? An examination of career activity of entrepreneurship majors, since 1981. Frontiers of Entrepreneurship Research 1995, Proceedings of the 15th Annual Entrepreneurship Research Conference. Babson College. Wellesley.
Webb, T., T. Quince, and D. Wathers. 1982. Small Business Research: The Development of Entrepreneurs. Gower. Aldershot.
Welsh, D.H.B. and M. Dragusin. 2013. The New Generation of Massive Open Online Course (MOOCS) and Entrepreneurship Education. Small Business Institute Journal 9(1): 51-65.
Wilson, F., J. Kickul, and D. Marlino. 2007. Gender, entrepreneurial self-efficacy, and entrepreneurial career intentions: Implications for entrepreneurship education. Entrepreneurship Theory and Practice 31: 387-406.
Xavier, R.S., D. Kelley, J. Kew, M. Herrington, and A. Vorderwülbecke. 2012. Global Entrepreneurship Monitor: 2012 Global Report. Global Entrepreneurship Research Association (online) at http://www.gemconsortium.org/report accessed January 8, 2018.
Yang, J. 2013. The Theory of Planned Behavior and Prediction of Entrepreneurial Intention among Chinese Undergraduates. Social Behavior and Personality 41(3): 367-376.
Tinovitasari, F., Yuliastanti, R. and Malati, F. (2017) 'Work Discipline Factors Affecting Employees Performance Of Marketing Subdivision of Madika Foundation In Surabaya', IJEBD (International Journal Of Entrepreneurship And Business Development), 1(1), pp. 23–38.
Wajdi, M. B. N., Ummah, Y. C. and Sari, D. E. (2017) 'UKM Development Business Loan. IJEBD (International Journal Of Entrepreneurship And Business Development), 1 (1), 99–109'.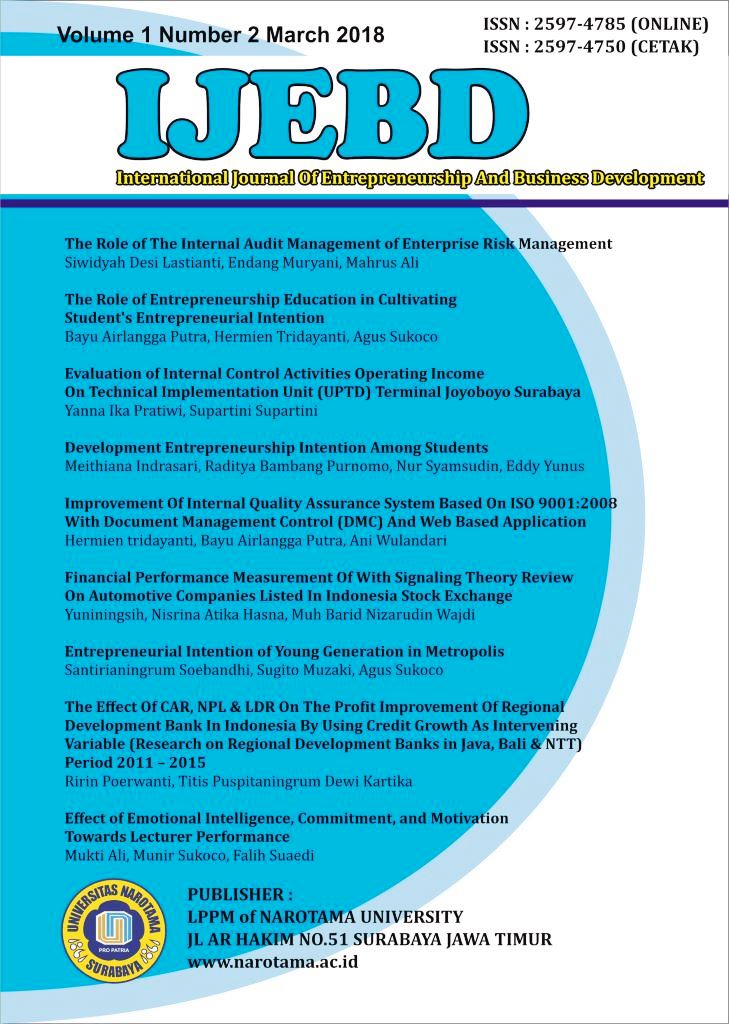 This work is licensed under a Creative Commons Attribution-ShareAlike 4.0 International License.