Improvement Of Internal Quality Assurance System Based On ISO 9001:2008 With Document Management Control (DMC) And Web Based Application
Hermien tridayanti

narotama university

Bayu Airlangga Putra

Economic and Business Faculty, Narotama University, East Java-Indonesia

Ani Wulandari

Economic and Business Faculty, Narotama University, East Java-Indonesia
Abstract
Managing the enactment of an internal quality assurance system requires the proper implementation of internal quality assurance to ensure the quality of Higher Education. The global challenges and dynamics of the development of information technology make Indonesian universities somewhat under pressure. higher education institutions are required to be able to handle changes, both internally and externally, to further strengthen the quality of the learning process. For this reason internal quality assurance plays an intense role in education services.
The quality policy of the internal quality assurance system describes an explanation of how a university understands, designs and implements their internal quality assurance system in the provision of higher education services to build, manage and maintain a quality culture. In these documents there is an explanation of backgrounds, objectives, and strategies, to improve the quality in every done task. In the global era, the nature of day-to-day operations tends to get more sophisticated and complex, therefore the internal quality assurance system must be supported by an integrated system in internal processes using information technology such as Document Management Control. Create quality holistic cycles that work best with the uniqueness of the institution itself. This will then result in a "Competitive Advantage" for the institution.
Keyword: Internal Quality Assurance System, Information Technology, Integrated System and Competitive Advantage
Downloads
Download data is not yet available.
References
Anstine, J. (2013). Graduation rates at U.S colleges and universities: a large data set analysis. Business Education & Accreditation, 5(2), 55-64. Barney, J. B. (1991). Firm resources and sustained competitive advantage: Journal of management, 17(1), 99–120.
Bobe, B. J. (2012). Management control systems, strategy implementation and capabilities development in university academic units: impacts on performance (Doctoral dissertation, RMIT University). Retrieved from https:// researchbank.rmit.edu.au/eserv/rmit:160082/ Bobe.pdf Fairholm, M. R. (2009). Leadership and organizational strategy.
Cahyono, H. (2017) 'Abnormal Return Differences Before And After Amnesty Tax Policy 2016-2017 Period II And III (Event Study at Company divided in LQ45 Index)', IJEBD (International Journal Of Entrepreneurship And Business Development), 1(1), pp. 39–74.
The Innovation Journal: The Public Sector Innovation Journal, 14(1), 3-16. Hair, J. F., Black, W. C., Babin, B. J., & Anderson, R. E. (2010). Multivariate data analysis: A global perspective (7th ed.). Upper Saddle River, NJ: Pearson Education.
Herlambang, T., Afnan T, E., Sudiro, A., & Noermijati. (2013). Analysis of Competitive Advantage in the perspective of Resources Based View. IOSR Journal of Business and Management (IOSRJBM), 10(1), 30-49.
Retrieved from www. iosrjournals.org Hidayat, D.S. (2008). Strategi Membangun Kompetensi Organisasi Dalam Rangka Meningkatkat Kinerja Penguruan Tinggi Swasta (PTS) Di Jawa Tengah. (Tesis, Program Pacasarjana). Universitas Diponegoro
Alisjahbana, S. W. et al. (2018) 'Substitution Local Resources Basalt Stone Scoria Lampung, Indonesia, as a Third Raw Material Aggregate to Increase The Quality of Portland Composite Cement (PCC)', International Journal of Engineering & Technology, 7(2), pp. 484–490.
Setiawan, M. I. et al. (2018) 'The Correlations between Airport Sustainability and Indonesian Economic Growth', in IOP Conference Series: Earth and Environmental Science. IOP Publishing, p. 12089.
Hill, Y., Lomas, L., & MacGregor, J. (2003). Students' perceptions of quality in higher education. Quality Assurance in Education, 11(1), 15-20. doi: 10.1108/09684880310462047
Hinton, K. E. (2012). A practical guide to strategic planning in higher education. Ann Arbor, MI: Society for College and University Planning. Jenita, J. (2014). Analisis Pengaruh Motivasi Dan Pelaksanaan Strategi Sdm Terhadap Kinerja Dosen Serta Implikasinya Pada Kualitas Lulusan (Survey pada PTS di Provinsi Riau). Jurnal Ilmiah Ekonomi dan Bisnis, 11(2), 482-510.
Kandiko, C. B., & Mawer, M. (2013). Student expectations and perceptions of Higher Education. London: King's Learning Institute. Kiptoo, K. K., & Mwirigi, F. M. (2014). Factors That Influence Effective Strategic Planning Process In Organizations. IOSR Journal of Business and Management (IOSR-JBM), 16(6), 188-195.
Mason, G., Williams, G. C., & Cranmer, S. (2009). Employability Skills Initiatives in Higher Education: What Effects Do They Have on Graduate Labour Market Outcomes? Education Economics, 17(1), 1-30. doi: 10.1080/09645290802028315
Messah, O. B., & Mucai, P. G. (2011). Factors Affecting the Implementation of Strategic Plans in Government Tertiary Institutions: A Survey of Selected Technical Training Institutes.
European Journal of Business and Management, 3(3), 85-105. Morgan, S. L. L. (2011). Strategic planning and leadership: renewing the relationship to reclaim the rewards. Cuadernos Latinoamericanos de Administración, 7(12), 9-20.
Narimawati, U. (2008). Peranan Modal Intelektual Dosen dalam Menciptakan Kualitas Lulusan. Majalah Ilmiah Unikom, 6(2), 143-156. OECD Publishing. (2010). Learning Our Lesson: Review of Quality Teaching in Higher Education. OECD Pub.
Quality Management Systems Requirements, ISO 9001:2008. Badan Standarisasi Nasional (BSN).
Pesic, M. A., Milic, V. J., & Stankovic, J. (2012). Application of VRIO Framework for Analyzing Human Resources Role in Providing Competitive Advantage. In Proceedings of the Tourism and Management Studies International Conference Algarve (pp. 575-586).
Powers, J. B., & McDougall, P. P. (2005). University start-up formation and technology licensing with firms that go public: a resource-based view of academic entrepreneurship. Journal of Business Venturing, 20(3), 291-311.
Prasetyaningrum, I. D. (2009). Analisis Pengaruh Pembelajaran Dan Kualitas Pelayanan Terhadap Kepuasan Mahasiswa Dan Loyalitas Mahasiswa (Studi Kasus Pada Undaris Ungaran (Master's thesis). Universitas Diponegoro, Semarang, Indonesia.
Sadiq, M. A. (2014). Transformational leadership, knowledge management, entrepreneurial orientation and organisational excellence in the higher education institutions in Nigeria (Doctoral dissertation). Universiti Utara Malaysia, Sintok, Kedah, Malaysia.
Tinovitasari, F., Yuliastanti, R. and Malati, F. (2017) 'Work Discipline Factors Affecting Employees Performance Of Marketing Subdivision of Madika Foundation In Surabaya', IJEBD (International Journal Of Entrepreneurship And Business Development), 1(1), pp. 23–38.
Wajdi, M. B. N., Ummah, Y. C. and Sari, D. E. (2017) 'UKM Development Business Loan. IJEBD (International Journal Of Entrepreneurship And Business Development), 1 (1), 99–109'.

Retrieved from http://etd.uum. edu.my/4499/ Samson, D., & Terziovski, M. (1999). The relationship between total quality management practices and operational performance. Journal of Operations Management, 17(4), 393-409. doi: 10.1016/ S0272-6963(98)00046-1
Sumardjoko, B. (2010). Faktor-Faktor determinan Peran Dosen Dalam Penjaminan Mutu Perguruan Tinggi. Cakrawala Pendidikan, 3(3), 294-310. Thoyib, A. (2005) Hubungan Kepemimpinan, Budaya, Strategi, dan Kinerja: Pendekatan Konsep. Jurnal manajemen dan kewirausahaan, 7(1) 60-73.
Theresa Thonhauser, 2006. ISO 9000 in Education: a comparison between the United States and England. Research in Comparative & International Education, Vol. 1, No. 2, 2006 doi: 10.2304/rcie.2006.1.2.156
Wright, P. M., Dunford, B. B., & Snell, S. A. (2001). Human resources and the resource based view of the firm. Journal of Management, 27(6), 701-721. doi: 10.1016/S0149-2063(01)00120-9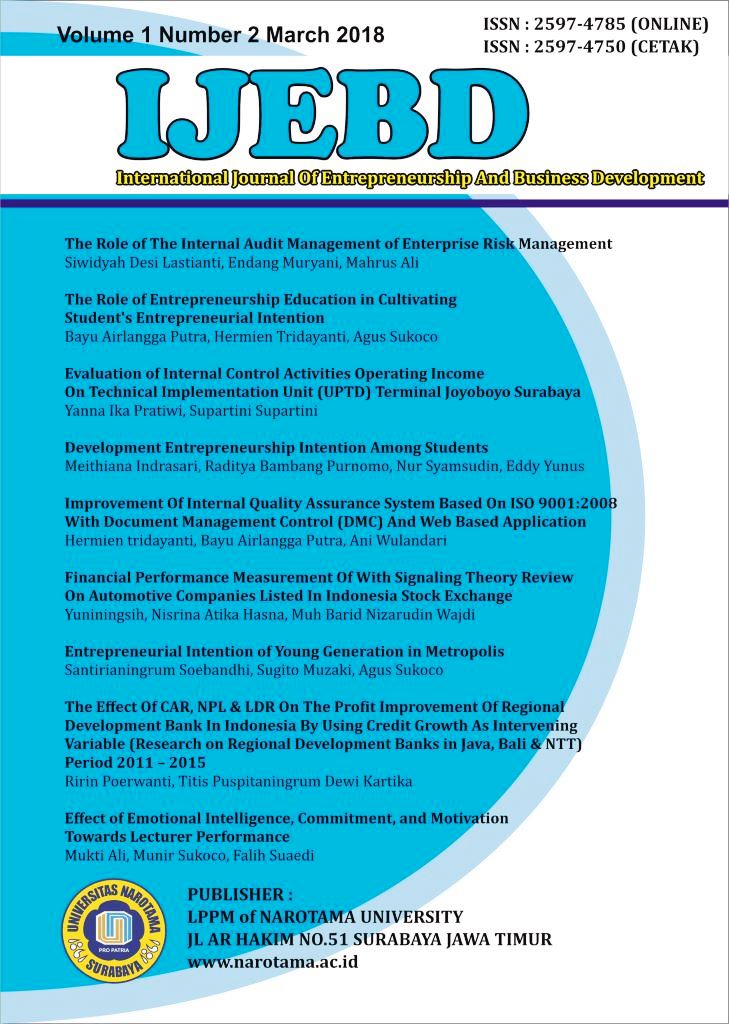 This work is licensed under a Creative Commons Attribution-ShareAlike 4.0 International License.