KEWENANGAN NOTARIS BERDASARKAN UNDANG-UNDANG NOMOR 2 TAHUN 2014 TENTANG PERUBAHAN ATAS DASAR UNDANG-UNDANG NOMOR 30 TAHUN 2004 PASAL 15 AYAT 3 YANG MEMPERBOLEHKAN MEMBUAT AKTE IKRAR WAKAF
Ahmad Nurul Huda

universitas narotama

Afdol Afdol

universitas narotama
Abstract
This journal discusses the Authority of Notaries Based on Law Number 2 of 2014 concerning Changes on the Basis of Law Number 30 of 2004 Article 15 Paragraph 3 Which Allows Making Waqf Pledge Deeds, a study in the jurisdiction of the City of Gresik. in Government Regulation No. 42 concerning Waqf (LN No. 105 of 2006, TLN No. 4667) which is contained in article 37. Article 37 paragraphs 4 and 5 state that it is possible for Notaries to have the opportunity to make a Waqf Pledge Deed (AIW). ). The provisions of the requirements for a Notary to become an Official Making Waqf Pledge Deed (PPAIW) are explained in the Regulation of the Minister of Religion Number 73 of 2013 concerning Procedures for Waqf of Immovable and Movable Objects Other than Money Article 27. Law Number 2 of 2014 concerning Amendments to Laws Law Number 30 of 2004 concerning the Position of a Notary (LN No. 3 of 2014, TLN No. 5491) in the explanation of article 15 paragraph 3 only explains that other powers of a notary regulated in other laws and regulations include making AIW. The authority in making AIW can be exercised by a Notary and the Head of the Office of Religious Affairs in their second position as PPAIW on land Waqf objects, namely making AIW. The purpose of this study was to determine the implementation of the notary's new authority in making the Waqf Pledge Deed. The type of research is normative juridical science, the research approach is the normative juridical method. The results of normative juridical law research, obtained answers to existing problems, namely there is no Notary who has a certificate as PPAIW, only the Head of the Office of Religious Affairs acts as PPAIW. Then, the factors that support the implementation of making AIW at the KUA are also explained and the factors that hinder the implementation of AIW at the notary.
Keywords: notary authority, notary waqf pledge deed, land waqf pledge deed
Downloads
Download data is not yet available.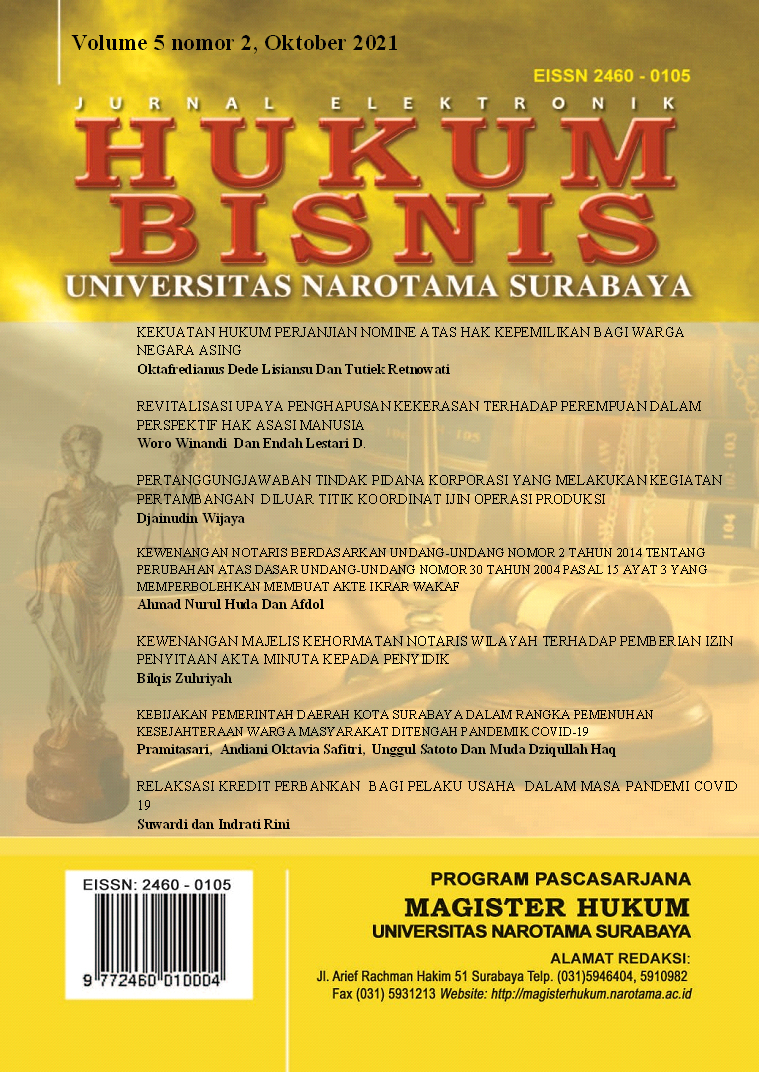 Abstract viewed = 0 times pdf downloaded = 0 times