PENINGKATAN DAYA SAING UMKM KABUPATEN PASURUAN UNTUK MENOPANG PEREKONOMIAN NASIONAL DALAM MENGHADAPI PERSAINGAN GLOBAL
Faroh Adibah

Sekolah Tinggi Ilmu Ekonomi (STIE) Yadika Bangil
Keywords:
Increased competitiveness, UMKM Pasuruan District, National Economy and Global Competition.
Abstract
Increasing the competitiveness Of UMKM will be established within a district area if the company faces large losses either from unused factory production capacity or unsold factory production capacity. A local company that is not pro-active will experience a downward shift in business competition to bankruptcy because of the national-scale companies to the international scale that control in the national economy. The results of this study is the development of UMKM in Pasuruan still faced with various problems such as production, sales and marketing in weak competitiveness of imported products. Other problems faced by UMKM, the need for increased government access related to licensing and bureaucracy as well as the high level of fees for licensing fees. With all the problems that exist, the national economic development potential becomes hampered. Although UMKM is said to be able to survive the existence of global competition but in the fact problems faced are still unresolved. This is because apart from indirect influence by the global crisis, UMKM also face economic problems that unresolved such as the problem of wage of labors, wage of employments and illegal levies business licensing in the face of global competition. Keywords: Increased competitiveness, UMKM Pasuruan District, National Economy and Global Competition.
Downloads
Download data is not yet available.
References
Alimudin, A. (2018). Model Strategi Pengembangan Positioning Kafe di Surabaya. BISMA (Bisnis dan Manajemen), 10(2), 156-168.
Alimudin, A., & Wibawa, R. P. (2018). Strategi Peningkatan Daya Saing Usaha Mikro Tempe Nasabah Lembaga Keuangan Mikro. EQUILIBRIUM: Jurnal Ilmiah Ekonomi dan Pembelajarannya, 6(1), 48-60.
Alimudin, A., Falani, A. Z., Setiawan, E., & Arifin, B. (2017). The Use of Fuzzy Logic in Developing Competitiveness Strategy Toward Small and Medium Enterprises (Grocery). Advanced Science Letters, 23(12), 11867-11873
Ariani, Wayan dan Suresmiathi. 2013. Pengaruh Kualitas Tenaga Kerja, Bantuan Modal, Usaha dan Teknologi Terhadap Produktivitas Kerja Usaha Mikro Kecil dan Menengah (UMKM) di Jimbaran. E-Jurnal EP Unud. Universitas Udayana:Bali.
Bachrun, Saifudin. Desain Pengupahan untuk Hubungan Industrial Dalam Praktik, (Jakarta: PPM, 2012).
Bambang, Joni. 2013. Hukum Ketenagakerjaan, (Bandung: Pustaka Setia, 2013).
Bank Indonesia. 2011. Surat Edaran Bank Indonesia Nomor: 13/23/DPNP tanggal 25 Oktober 2011 perihal Perubahan atas Surat Edaran No.5/21/DPNP perihal Penerapan Manajemen Risiko bagi Bank Umum.
https://gmnisumedang.wordpress.com/2016/05/21/globalisasi-tantangan-di-balik-peluang.
https://id.wikipedia.org/wiki/Usaha_Kecil_dan_Menengah.
https://www.coursehero.com/file/17320562/Analisis-SWOT-dan-jawaban-pertanyaan/.
Imawan. 2012. Peningkatan Daya Saing : Oendekatan Paradigmatik-Politis, Jurnal Ilmu Sosial dan Ilmu Politik, Vol.6 No.1, Juli 2012
Kuncoro, Mudrajad. 2009. Metode Riset Untuk Bisnis & Ekonomi. Penerbit Erlangga. Jakarta.
Kusuma-Atmadja, Mochtar. Teori Hukum Pembangunan Eksistensi dan Implikasi, (Jakarta: Epistema Institute Huma, 2012).
Nitisusastro. 2010. Kewirausahaan Dan Manajemen Usaha Kecil. Bandung: ALFABETA.
Nuhung. 2012. Tantangan, masalah dan solusi UMKM. 24-04-2012.
Osrinda dan Delis. 2016. Jurnal Perspektif Pembiayaan dan Pembangunan Daerah Vol. 3 No. 3, Januari-Maret 2016 ISSN: 2338-4603 (print); 2355-8520 (online). Parkin, Michael. 2010. Economics. New York: Pearson Education. Sasono, A. D., Alimudin, A., Kamisutara, M., & Inayati, I. (2015). Development of accounting information system (SIA-UMKM) with waterfall approach to standardize UMKM financial report based on standard of accounting financial entity without public accountability (SAK-ETAP). J. Basic. Appl. Sci. Res.
Sudaryanto dan Hanim. 2002. Evaluasi kesiapan UKM Menyongsong Pasar Bebas Asean (AFTA) : Analisis Perspektif dan Tinjauan Teoritis. Jurnal Ekonomi Akuntansi dan Manajemen, Vol 1 No 2, Desember 2002.
Tambunan. 2002. Usaha Kecil dan Menengah di Indonesia, Beberapa Isu Penting. Salemba Empat. Jakarta.
Tjahjono. 2017. Manajemen Sumber Daya Manusia dan Perilaku Organisasional. Penerbit Program Pascasarjana Universitas Muhammadiyah Yogyakarta.
Todaro, P. M. 2000. Pembangunan ekonomi di dunia ketiga. Jakarta: Penerbit Erlangga. Tohar. 2000. Membuka usaha kecil. Yogyakarta: Kasinius.
Wahyono. 2009. Membuat Sendiri Program Akuntansi. Penerbit: PT Elex Media Komputindo. Jakarta.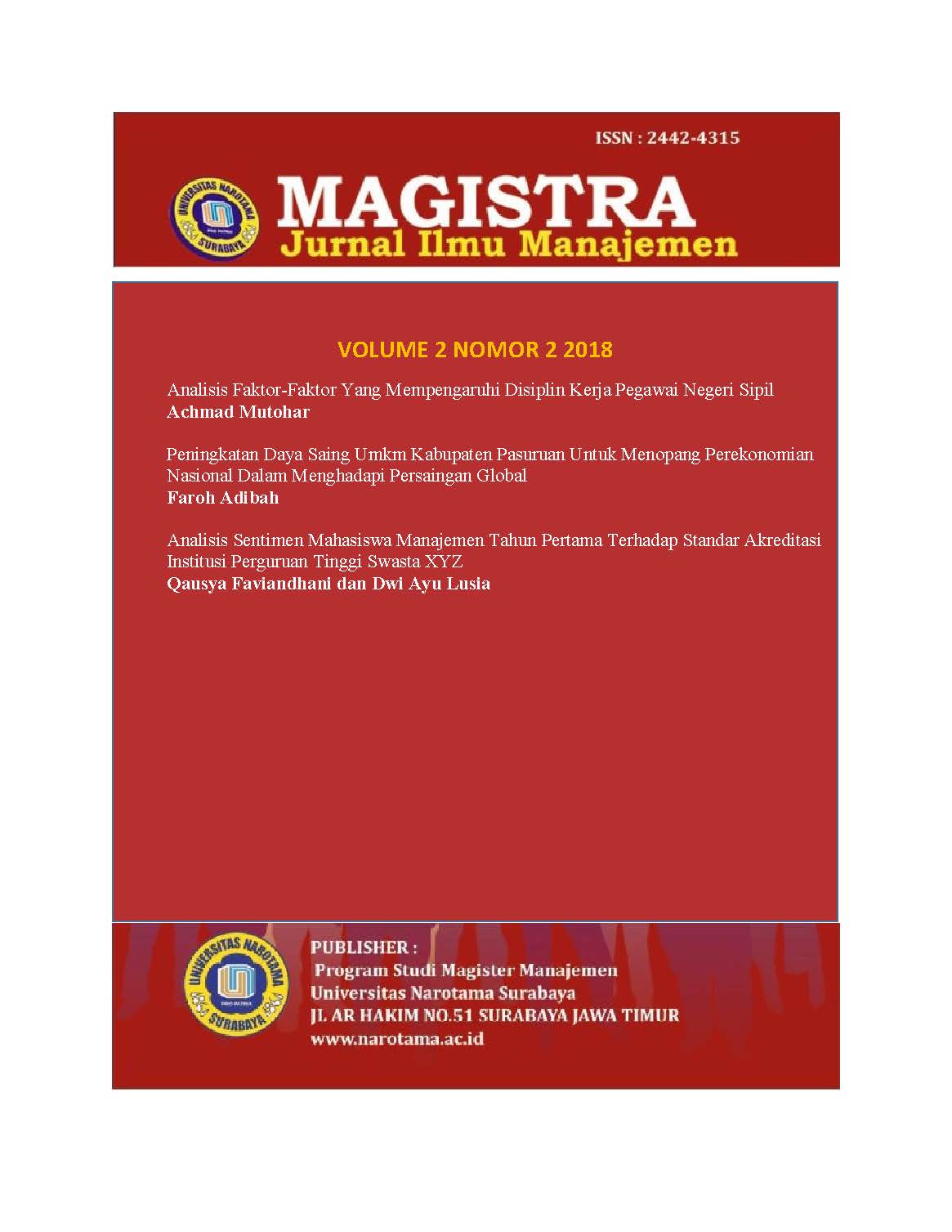 Abstract viewed = 0 times PDF downloaded = 0 times