STRATEGI PERPUSTAKAAN KOTA SURABAYA DALAM MEWUJUDKAN SURABAYA SEBAGAI KOTA LITERASI
Abd. Hamid

Universitas Wijaya Kusuma Surabaya

Yanuastrid Shintawati

Universitas Wijaya Kusuma Surabaya
Keywords:
Strategy, Library,, Reading Culture, literacy
Abstract
The city of Surabaya was labeled as the first literacy city in Indonesia, various legal instruments and work programs were scheduled and implemented by the Surabaya City Library and Archives Service to realize the literacy city, including forming literacy villages in the villages of Surabaya City, forming more than 400 parks Read community (TBM) in RW7RT office and other public spaces, gather literacy activists, mobile libraries with 3 cars, Collaboration with NGOs in Surabaya to help campaign reading culture. NGOs were given 150 copies of book titles, school library competitions included primary school and junior high school equivalent each year, story telling for elementary school students and equivalent, Community Reading Park Contest in Surabaya city, outstanding facilitator and librarian competitions in 2016 "Arek Surabaya" village in collaboration with the Department of Population Control, Women's Empowerment and Child Protection (DP5A). The result. From 2014 until 2017, Surabaya won various awards both at regional, national and international levels as a literacy city.
Downloads
Download data is not yet available.
References
Asius Sudarsono, 2006. Antologi Kepustakawanan Indonesia, Sagung Seto, Jakarta, Daan T, 2005. Kompetensi Membaca.: Buletin Pusat perbukuan. Jakarta
Darmono, 2007 perpustakaan sekolah. Jakarta : PT Grasindo
Darmono. 2001. Manajemen dan Tata Kerja Perpustakaan Sekolah. PT. Gramedia. Jakarta
Gunawan, Wawan. 1996. "Model Pengajaran Membaca Permulaan (Suatu Pengembangan Tindakan pada Sekolah Dasar di Kota Jambi" Dalam Jurnal Penelitian Pendidikan Dasar, 2(I):85—96.
Hermawan, Rachman & Zulfikar. 2010. Etika Kepustakawanan: Suatu Penekatan Terhadap Kode Etik Pustakawan Indonesia. PT. Sagung Seto. Jakarta
Kosam Rimbarawa, 2006. Aksentuasi Perpustakaan dan Pustakawan, PT.Sagung Seto, Jakarta.
Kurniawan, K. 2000. "Tradisi Membaca sebagai Upaya Peningkatan Kemampuan mahasiswa Belajar Mandiri dalam Menulis." Dalam Jurnal Ilmu Pendidikan, 7(3):237—350.
Mbulu, yoseph. 2000. Pemanfaatan Perpustakaan Sekolah dalam Kegiatan Belajar Mengajar. Majalah Pendidikan, Cet XIX.
Perpustakaan Nasional Republik Indonesia. 2008. Undang-Undang Republik Indonesia Nomor 43 Tahun 2007 tentang Perpustakaan. Perpustakaan Nasional. Jakarta
Purwono. 2014. Profesi Pustakawan. Universitas Terbuka. Tangerang Selatan
Rachman Hermawan, 2006. Etika Kepustakawanan, PT.Sagung Seto, Jakarta,
Soedarso. 2000. Speed Reading ; Sistem Membaca Cepat dan Efektif. PT. Gramedia Pustaka Utama. Jakarta
Sulistyo Basuki, 1991. Pengantar Ilmu Perpustakaan. : PT. Gramedia Pustaka Utama. Jakarta
Sutarno, 2008. 1 Abad Kebangkitan Nasional dan Kebangkitan Perpustakaan, PT. Sagung Seto, Jakarta.
Sutarno, 2006. Manajemen Perpustakaan, PT. Sagung Seto, Jakarta.
Sutarno, 2006.Perpustakaan dan Masyarakat, PT. Sagung Seto, Jakarta.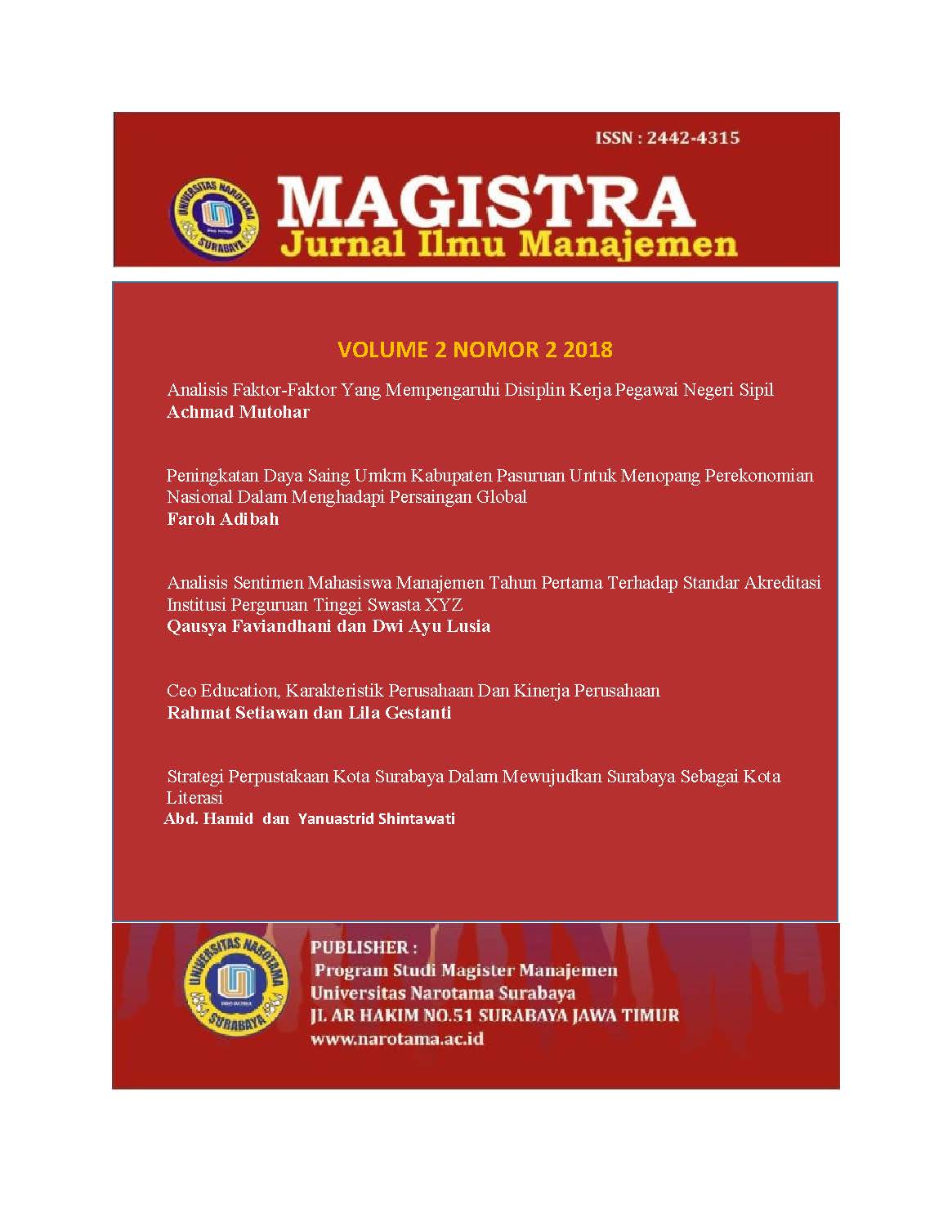 Abstract viewed = 0 times PDF downloaded = 0 times