Workshop And Motivation For Improving Student Skills Through The Information And Communications Technology
Febri Liantoni

Universitas Sebelas Maret

Yusfia Hafid Aristyagama

Universitas Sebelas Maret

Nurcahya Pradana Taufik Prakisya

Universitas Sebelas Maret

Puspanda Hatta

Universitas Sebelas Maret

Cucuk Wawan Budiyanto

Universitas Sebelas Maret
Keywords:
digital, education, internet, workshops
Abstract
In the digital age, the role of information technology is needed to face competition in the community. Information and communication technology is an important element in contributing to changes that are fundamental to the structure of operations and management of organizations, education, transportation, health, and research. The internet is like two sides of a coin, the content offered is positive and negative, both are very dependent on the behavior of its users. The ease of access to the internet is increasingly being felt by the public with increasingly cheap hardware such as tablets and laptops as well as wider connection support. Various efforts to stem negative information continue to be pursued by various elements of society, but it is not effective if the user behavior is not changed. Teenagers are among the most vulnerable in the misuse of advances in internet technology, so it needs serious efforts to provide the right knowledge and skills in utilizing these advancements. By conducting workshops and motivation to improve the abilities and skills of Girimarto 1 High School students, it is hoped that school students can face the development of the digital era more readily. The results of this training gained a high level of satisfaction with the material that had been carried out.
Downloads
Download data is not yet available.
References
Altun, A., Gulbahar, Y., & Madran, O. (2008). Use of a content management system for blended learning: Perceptions of pre-service teachers. Turkish Online Journal of Distance Education, 9(4), 138–153.

APJII. (2018). Penetrasi Pengguna Internet Indonesia Tahun 2018. Buletin Asosiasi Penyelenggara Jasa Internet Indonesia (APJII). https://apjii.or.id/survei2018

Bakri, F., Fajriani, F., & Muliyati, D. (2018). Media E-Learning Berbasis Cms Joomla: Pelengkap Pembelajaran Fisika Sma. Jurnal Teknodik, 21(2), 99. https://doi.org/10.32550/teknodik.v21i2.346

Bianco, F., & Michelino, F. (2010). The role of content management systems in publishing firms. International Journal of Information Management, 30(2), 117–124. https://doi.org/10.1016/j.ijinfomgt.2009.11.001

Dick, W Lou, C, Carey, O. (2005). The Systematic Design of Instruction. Educational Technology Research and Development.

Khaerunnisa, E., Rafianti, I., Pamungkas, A. S., Pujiastuti, H., & Setiani, Y. (2019). Development of a Content Management System (CMS) for Mathematics Learning Tools Of Mathematics Pre Service Teachers. Formatif: Jurnal Ilmiah Pendidikan MIPA, 9(2). https://doi.org/10.30998/formatif.v9i2.2978

Liantoni, F., Arief, R., & Rozi, N. F. (2019). Improving Learning Processes With Online Teaching. The Spirit Of Society Journal, 2(2), 101–106. https://doi.org/10.29138/SCJ.V2I2.665

Patel, S., B.Prajapati, & Ravi, J. (2012). Seo and Content Management System. International Journal of Electronics and Computer Science Engineerin, 1, 953–959.

Syarif, A. (2016). Aktivitas Remaja Dalam Penggunaan Internet. Setara Institut. Jakarta.

Wiwin Hartanto. (2016). Penggunaan E-Learning Sebagai Media Pembelajaran. Jurnal Pendidikan Ekonomi, 10(1). https://jurnal.unej.ac.id/index.php/JPE/article/view/3438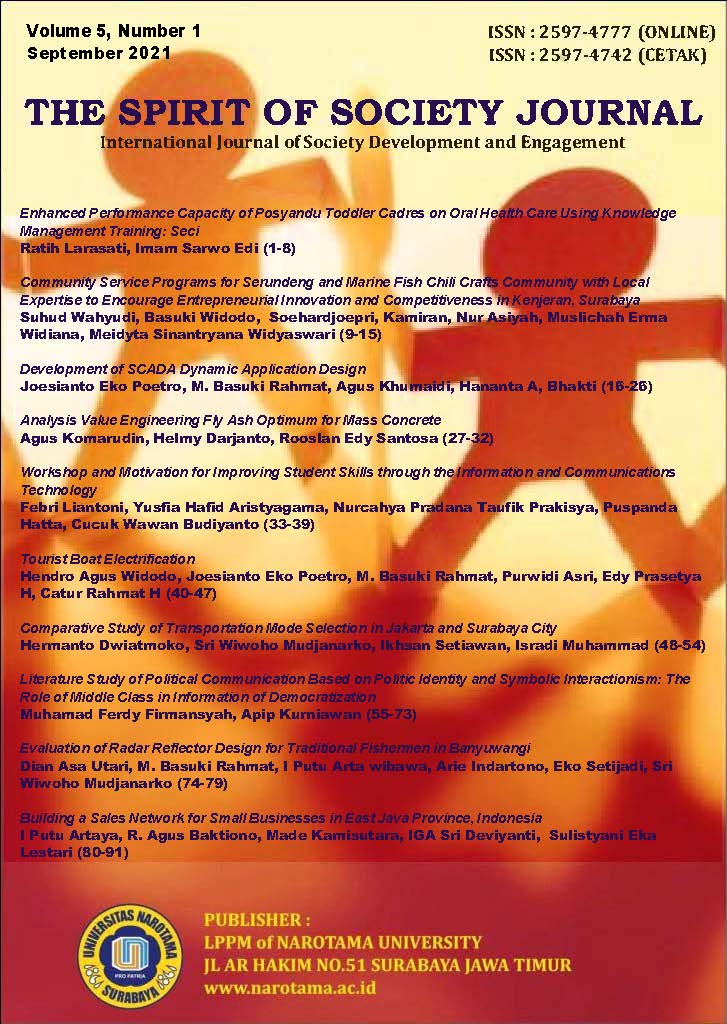 Copyright (c) 2021 THE SPIRIT OF SOCIETY JOURNAL
This work is licensed under a Creative Commons Attribution-ShareAlike 4.0 International License.
Abstract viewed = 0 times PDF downloaded = 0 times