ENHANCED PERFORMANCE CAPACITY OF POSYANDU TODDLER CADRES ON ORAL HEALTH CARE USING KNOWLEDGE MANAGEMENT TRAINING: SECI
Ratih Larasati

Health Polytechnic Ministry of Health Surabaya

Imam Sarwo Edi

Health Polytechnic Ministry of Health Surabaya
Keywords:
knowledge management, SECI, training
Abstract
Puskesmas Ngagel Rejo is one of the health centers in Surabaya, has run the school dental health effort (UKGS), but has not been able to carry out oral health efforts in the community (UKGM), because puskesmas do not yet have a cadre of oral health in posyandu. The problem with research is that there is no oral health cadre at Puskesmas Ngagel Rejo Surabaya that serves the community. The study aims to increase the performance capacity of cadres of toddlers concurrently becoming oral health cadres as well, using training with a knowledge management approach: SECI. The study was a quasi-experimental study with a non-randomized control group of pre-post-design tests. There were three non-randomly selected groups, then given a pre-test to find out the initial state, which is the difference between the experimental group and the control group. Data analysis uses non-parametric data because the data is not distributed normally. The population of this study is a cadre of Puskesmas Ngagel Rejo Surabaya numbering 317 cadres, while the total sample is 150 cadres. As a result, there were significant differences in knowledge and skill levels between dental health training groups without SECI, dental health training groups with SECI, and control groups (p-value <0.001). This research can prove that the knowledge and skills of the SECI group are better than the other two groups. In conclusion, knowledge management-based training: SECI affects cadre behavior in oral health.
Downloads
Download data is not yet available.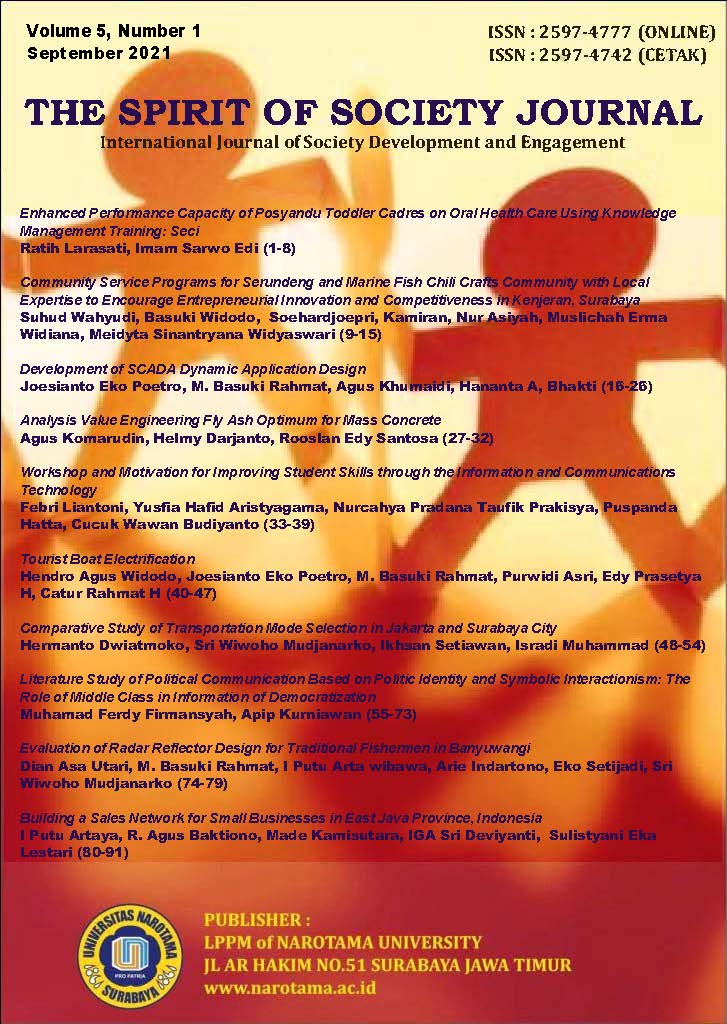 Copyright (c) 2021 THE SPIRIT OF SOCIETY JOURNAL
This work is licensed under a Creative Commons Attribution-ShareAlike 4.0 International License.
Abstract viewed = 0 times PDF downloaded = 0 times