Evaluation of Radar Reflector Design for Traditional Fishermen in Banyuwangi
Dian Asa Utari

Shipbuilding Institute of Polytechnic Surabaya

M. Basuki Rahmat

Shipbuilding Institute of Polytechnic Surabaya

I Putu Arta Wibawa

Shipbuilding Institute of Polytechnic Surabaya

Arie Indartono

Shipbuilding Institute of Polytechnic Surabaya

Eko Setijadi

Shipbuilding Institute of Polytechnic Surabaya

Sri Wiwoho Mudjanarko

Narotama University
Keywords:
Fisherman, Radar Cross Section, , Radar Reflector, Ornament
Abstract
Every fishing boat owned by fishermen in the Muncar Harbor area of Banyuwangi is always decorated. In addition to beautifying the ship, they also provide enthusiasm for work. Various decorations used include the shape of the dome of the mosque and the shape of a butterfly. Although technically all ornaments do not support their safety at sea. Accidents, namely the collision of traditional fishing vessels by large commercial vessels often occur. because the area of operation of traditional fishermen is the trajectory of large commercial ships. Many accidents occur because the presence of fishing boats is not detected by commercial vessels. because most traditional fishing boats are made of materials that do not reflect the radar signals of large vessels. For this reason, it is very necessary to install a reflector radar, which is a passive radar that serves to increase the object's Radar Cross Section value. This radar can be mounted on fishing vessels so that the reflected energy from this radar reflector can be recognized by large ships. This article describes designs that are in demand by traditional fishermen in the Muncar area of Banyuwangi.
Downloads
Download data is not yet available.
References
[1] Knott, E. F.; Schaeffer, J. F.; Tuley, M. T.; "Radar Cross Section"; Artech House, INC, New Jersey, 1985
[2] I Putu Arta Wibawa,Moh. Basuki Rahmat,Dian Asa Utari, Penggunaan RADAR REFLECTOR Berbasis Budaya Lokal Pada Kapal Ikan Tra- disional,Seminar Nasional Terapan Riset Inovatif (SENTRINOV) Ke-6 ISAS Publishing,Series: Engineering and Science Vol. 6 No. 1 (2020)
E-ISSN: 2621-9794, P-ISSN: 2477-2097
[3] Jeong-Bin Yim, Woo-Suk Kim, Design of Passive-Type reflector, Inter- national Journal of Navigation and Port Research, Vol.27,No.3 pp.267- 272,2003 (ISSN-1598-5725)
[4] Wibawa, P.A., Birmingham, R.W. Improving safety working environ- ment on indonesian fishing fleet: a case study on local fishing commu- nities in east java. The 1 st Maritime Safety International Confrence. Bali, IEEE, Indonesia.
[5] Dian Asa Utari, Moh Basuki Rahmat, I Putu artha W, Designing Local Culture-Based Radar Reflector for Increasing Safety Fishing Practices on Indonesian Traditional Fishing Vessel, International Conference on Applied Science and Technology (iCAST),Series: Engineering
[6] Currie, N. C. Radar Reflectivity Measurement, Technics Applications. Artech House, Inc. 1989.
[7] Birmingham, R.W., Wibawa, P.A. (2018). The role of aesthetics in engineering design – insights gained from cross-cultural research into traditional fishing vessels in indonesia. Marine Design XIII, Volume 1: Proceedings of the 13th International Marine Design Conference (IMDC 2018), June 10-14, Finland.
[8] Wibawa, P.A. (2016). Sustainable Fishing Vessel Development by Pri- oritising Stakeholders Engagement in Indonesian Small-Scale Fisheries. Disertasi. Newcastle University, United Kingdom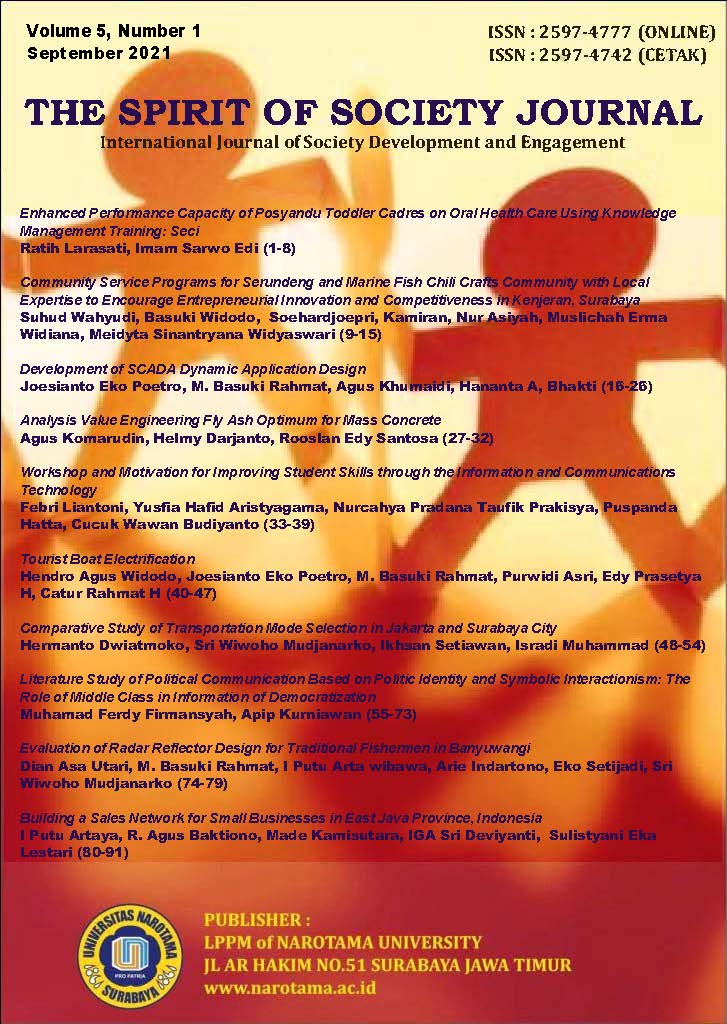 Copyright (c) 2021 THE SPIRIT OF SOCIETY JOURNAL
This work is licensed under a Creative Commons Attribution-ShareAlike 4.0 International License.
Abstract viewed = 0 times PDF downloaded = 0 times