Development of SCADA Dynamic Application Design
Joesianto Eko Poetro

Shipbuilding Institute of Polytechnic Surabaya

M. Basuki Rahmat

Shipbuilding Institute of Polytechnic Surabaya

Agus Khumaidi

Shipbuilding Institute of Polytechnic Surabaya

Hananta A

Shipbuilding Institute of Polytechnic Surabaya

Bhakti Bhakti

Shipbuilding Institute of Polytechnic Surabaya
Keywords:
Dynamic Applications, Modbus, Communication, Competence
Abstract
The COVID-19 pandemic has changed major habits in learning patterns. Before the pandemic, almost all learning activities took place face-to-face. Especially vocational education, where competence or expertise is an absolute achievement that must be achieved. Learning patterns where practical learning reaches 60% of students must obtain practical learning directly. During the pandemic, direct learning activities cannot be carried out in full. This will have an impact on student competence. Solution is needed to solve it. One of them is how students can practice virtually. This article does not discuss the extent of competence achieved by a student through online practice. The focus of this article is to discuss how practical devices can be controlled remotely by designing a virtual system on the platform and running it in real time or known as dynamic application. And technicians or PLP will still supervise the operation of equipment in the laboratory. The device will be built using the MODBUS communication protocol.
Downloads
Download data is not yet available.
References
Anonym. (2006). Modbus Messaging on TCP/IP Implementation Guide V1.0b. October 24. Modbus Organization,Inc.,http://www.modbus.org/docs/odbus_Messaging_implementation_Guide_V1_0b.pdf
Anonym. (2012). Modbus Application Protocol Specification V1.1b3. April 26. Modbus Organization,Inc., http://www.modbus.org/docs/Modbus_Application_Protocol_V1_1b3.pdf
G. B. M. Guarese, F. G. Sieben, T. Webber, M. R. Dillenburg, and C. Marcon. (2012). Exploiting Modbus Protocol in Wired and Wireless Multilevel Communication Architecture, 2012 Brazilian Symposium on Computing System Engineering.
K. Wang, D. Peng, L. Song, and H. Zhang, (2014). Implementation of Modbus communication protocol based on ARM Coretx-M0," Conf. Proc. - 2014 Int. Conf. Syst. Sci. Eng. ICSSE 2014, pp. 69–73, 2014, doi: 10.1109/ICSSE.2014.6887907.
Nurpatmi, (2010). Studi Tentang Modbus Protokol Sistem control, Forum Teknologi, Vol.01, No. 2010.
R. Capocci, G. Dooly, E. Omerdic, J. Coleman, T. Newe, and D. Toal, Inspection-Class Remotely Operated Vehicles - A Review, Journal of Marine Science and Engineering, vol. 5, no. 1, p. 13, 2017.
S. D. Chandra, H. Kusuma, and Suwito, (2016). Desain Dan Implementasi Protokol Modbus Untuk Sistem Antrian Terintegrasi Pada Pelayanan Surat Izin Mengemudi (Sim) Di Kepolisian Resort.
T. Morris, R. Vaughn, and Y. Dandass. (2012). A Retrofit Network Intrusion Detection System for MODBUS RTU and ASCII Industrial Control Systems, 45th Hawaii International Conference on System Sciences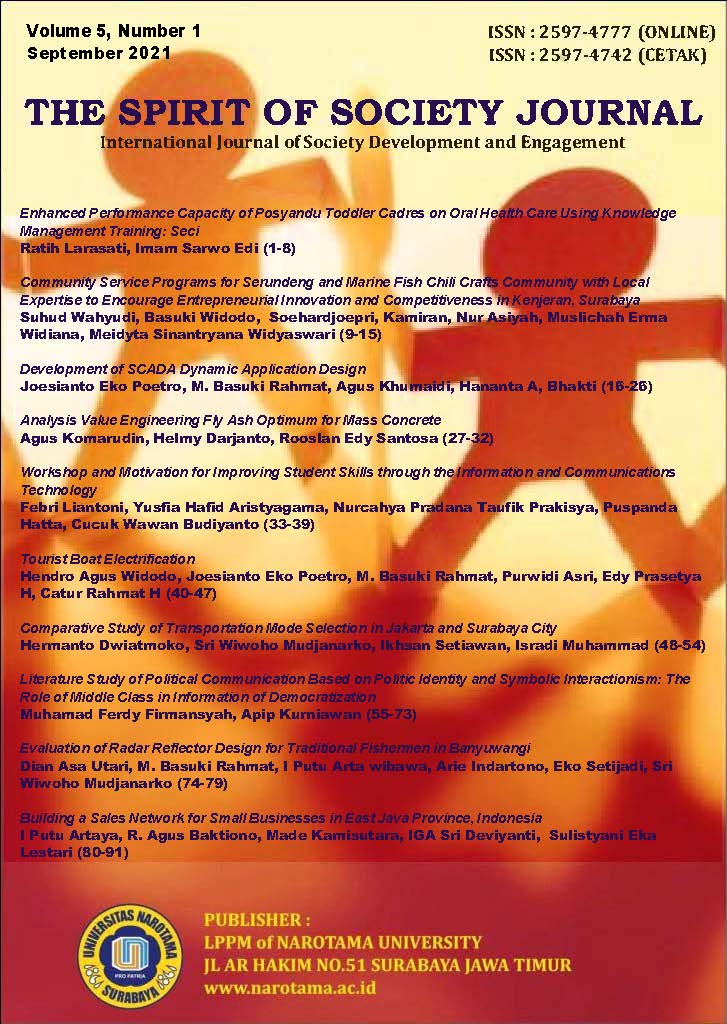 Copyright (c) 2021 THE SPIRIT OF SOCIETY JOURNAL
This work is licensed under a Creative Commons Attribution-ShareAlike 4.0 International License.
Abstract viewed = 0 times PDF downloaded = 0 times