Analytical & Experimental Analysis of Lightning Stokes Performance & Protection by MOV Based Simulation Model: A 33 KV Transmission Line Case Study
Arsal Mehmood

Department of Electrical Engineering, Mehran University of Engineering & Technology, Jamshoro

Huzaifa Hassan

Department of Electrical Engineering, Mehran University of Engineering & Technology, Jamshoro

Faraz Ahmed Baig

Department of Electrical Engineering, Mehran University of Engineering & Technology, Jamshoro

Suhail Ahmed Shaikh

Department of Electrical Engineering, Mehran University of Engineering & Technology, Jamshoro
Keywords:
Lightning, Overvoltage, Overhead, Unscheduled, Metal-Oxide Varistor, Surge Arrestor
Abstract
Researchers are working on techniques to mitigate failure rates as low as possible to avoid potential harm, sustain high power efficiency for this a considerable number of estimation studies were already performed and several designs of methodologies were being suggested. The transmission line performs the role of the arteries which maintain the process of transporting electricity in the transmission line. That is why it is important to maintain and manage the costs of these tracks.  Surge arrestor and shield wire application are often techniques chosen for defensive strategy in a very technique. By pushing travelling waves towards the electrical equipment mounted on the transmission line, the effects of lightning stoke on the transmission line may cause severe damage to the electrical equipment. In this review, this research study provides a review-based overview of the mechanism of occurrence of lightning along with its impact on the transmission line and the defence methods used to prevent such effects. A MATLAB / SIMULINK 2020a simulation modeling-based analysis for the incidence of lightning on the 33 kV transmission line system is observed in this regard, and a Metal-Oxide surge arrestor-based lightning fault clearance safety scheme is also suggested and discussed.
Downloads
Download data is not yet available.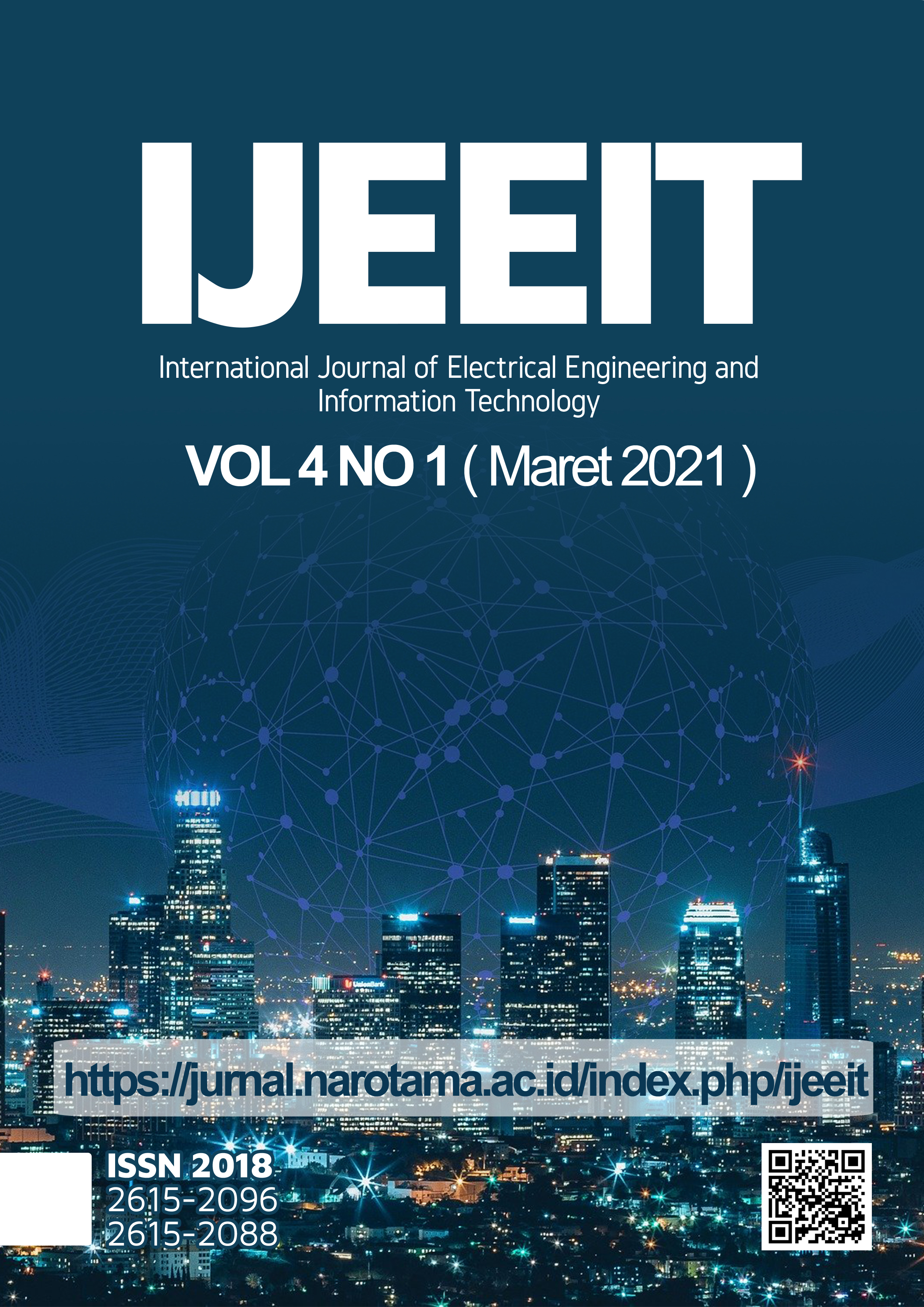 How to Cite
MehmoodA., HassanH., BaigF., & ShaikhS. (2021). Analytical & Experimental Analysis of Lightning Stokes Performance & Protection by MOV Based Simulation Model: A 33 KV Transmission Line Case Study. JEEIT nternational ournal of lectrical ngineering and nformation echnology, 4(1), 41 - 46. https://doi.org/10.29138/ijeeit.v4i1.1236
Copyright (c) 2021 IJEEIT International Journal of Electrical Engineering and Information Technology
This work is licensed under a Creative Commons Attribution-ShareAlike 4.0 International License.
Attribution 4.0 International (CC BY 4.0) You are free to: Share — copy and redistribute the material in any medium or format, Adapt — remix, transform, and build upon the material for any purpose, even commercially.
Abstract viewed = 0 times PDF downloaded = 0 times